(all promotions and specials specified are subject to expiration | Please call or contact us to inquire about our current promotions and specials)
Starting on 15th December 2016, you can enjoy great live music at one of the best Perth bars in the CBD. Every Saturday at the Gramercy Bar & Kitchen we will have a live acoustic band in the house. Featuring a rotation of up and coming artists in the city, our acoustic Saturday sets will take place from 4 pm to 7 pm and will, we hope, make a nice contrast to our Friday Nights with DJ Bounce on the decks. The type of music you can expect to hear will depend on the artists who are playing but as all the bands will be completely acoustic, you can look forward to a chilled vibe whoever is on stage when you visit. If you have never been to Gramercy Bar & Kitchen in the past, it is one of the best bars in Perth CBD: great for after-work drinks in the week, crazy nights at the weekend, or great food and drink any day of the week.
Make a Night of It
If you are planning a night out with friends at the weekend and you fancy doing something a little out of the ordinary, our acoustic Saturdays could be just what you are looking for. If you arrive after 5, you can take advantage of our Happy Hour prices and after the band has finished, tuck into a delicious meal prepared by our talented kitchen team. If you don't want a big meal, we have a great range of bar snacks available throughout the day and our friendly waiting staff will be more than happy to make some recommendations for those who have never eaten with us before. As a craft beer and cocktail bar in Perth, we always have a fantastic range of drinks available too and our experienced mixologist is more than happy to make cocktails to order for customers who would like to explore exciting new combinations.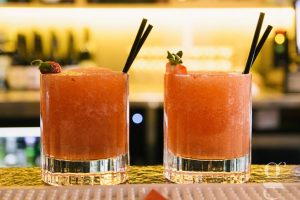 Come Often and Save Money
Thanks to our popular loyalty card program, the more you visit us the less you have to spend! Our regular prices already compare favourably with those of other Perth small bars but if you come every Saturday to see all the new acoustic artists, you can look forward to attractive discounts on a variety of products. You don't have to wait until the weekend to visit of course: you can look forward to a warm welcome any day of the week and if you fancy a change of tempo, we recommend dropping in on a Friday night to check out DJ Bounce's latest playlist.
Calling Talented Local Musicians
If you play in a local band and you have an acoustic set you think would go down well with the crowd at Gramercy Bar & Kitchen, we would love to hear from you. Whether you already perform in some of the Perth city bars that feature live music or you are new to the area, please feel free to get in touch with us to arrange an informal audition.